Crescent Graphics began many years ago as a freelance graphic design business, but it wasn't my first job. I began working for Silver, Burdett & Ginn publishing. First, in the creative department, then, as manager for their first computer graphics department. Years later, I moved to "the shore" and joined an advertising agency, working my way up to Account Executive/Creative Director.
For a short time I held the position of Project Manager for a large pharmaceutical marketing firm. (I thought I wanted that kind of job – it turns out I didn't). Luckily, I was asked to come back to the Ad Agency I had worked for fifteen years earlier. The agency was in trouble. Unfortunately, in the long run, it could not be saved. So, I decided it was time for Crescent Graphics to grow into something bigger.
Today, Crescent Graphics, LLC has grown into a full-service advertising agency. Services include: graphic design, website design, build and maintenance, copywriting, media buying, photography, print buying and social media marketing. When we work together, you can count on professional communication throughout the entire project. I also provide prompt responses, quality work with attention to detail and turnaround times that won't have you wondering, "What happened to that job?". 
Some of Crescent Graphics' clients are in the following industries: real estate, food pantry and non-profit, investment banking, veterinary hospital, software engineer/cyber security. I also do work for individuals who are looking for printed pieces for weddings (programs, menus, save-the-dates, thank you cards, etc.) and other special occasions (bridal showers, baby showers, birthday parties, etc.).
Give a call or send an email and…
let's get growing!
Crescent Graphics, LLC
Advertising & Graphic Design
How can we help your business grow? 
Contact
info@crescentgraphicsllc.com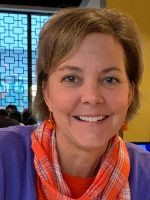 Wondering why the name, Crescent?
A waxing crescent moon represents growth, getting larger and more visible in the night sky. "Crescere" means "to grow, increase" in Latin and "Crescendo", when referring to music, means to grow, increase the sound, in Italian.
COMMUNICATE  |  CREATE  |  GROW